More than 500.000 of CAD SYMBOLS

Prijs




Save thousands of € in design time
CAD Symbols 2D/3D for Industry, Construction and Mechanical

Works with most Major CAD Products. Drag and drop or save directly into your CAD product

Supported direct interfaces:
AutoCAD® (Autodesk®) v13 - 2012
AutoCAD LT® (Autodesk®) 95 - 2008
AutoCAD® Architectural Desktop (Autodesk®) 2005 - 2012
Mechanical Desktop (Autodesk®) MD2 - MD6; 2004 - 2012
Inventor™ (Autodesk®) 5 - 11, 2008
CATIA v5 R12 - R16
One Space Designer 13, 14
Pro/E Wildfire 1 - 3
Solid Edge (UGS) v8 - v19
SolidWorks (Dassault Systems) SW 99 - 2007
TurboCAD® (IMSI®) v4+, v6, v8 - v14 - v17
Vectorworks 3D
WMF 2D

New ! Pixel drivers for BMP, PNG, JPG, PCX, TIF, TGA
Search and sort by
Keyword
Symbol Category
Standard
File Format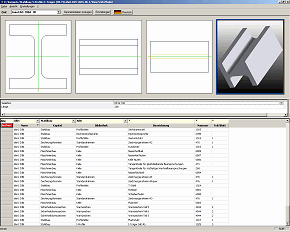 System requirements
Pentium class PC 64 MB Ram
80 MB Hard Disk space
Super VGA Video/Display
CD ROM
WINDOWS 98 / NT4 / 2000 / XP / VISTA / Windows 7
Internet connection and browser required for online access
More than thousands of 2D/3D standard parts and symbol variations. One of the most extensive collections of standard parts and symbols available containing over 30 million drawings and models in 2D and freely revolving 3D models.
Symbols can either be used in standard format, i.e. DXF, DWG, SAT, STEP, BMP,JPG, VRML or inserted directly into most common CAD systems: AutoCAD tm, Inventor, SolidEdge, SolidWorks, and TurboCADtm.
Symbols can be searched for by keyword and sorted by standard such as: DIN, ASME, ANSI, ISO, DAST, and VDE files format or symbol category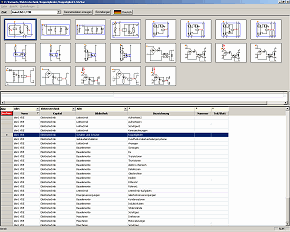 Architectural Symbols Appliances, ustensils, cabinets, windows, doors, and more
Electronic Symbols Capacitors, diodes, inductors, resistors and transistors.
Mechanical Symbols Flanges, nuts, pins, screws and washers.
Electrical Symbols Contacts, switches, Push-buttons, lamps, coils and more.

Supported Formats:

SAT 1.5
STEP AP 203-214
IGES
DXF 2D/3D
DWG (AutoCAD)
VDAFS
Jpg
Bnp
VRML
TGA
TIFF
PCS